Massage Therapy West Edmonton
We are operating in two different locations in West (Grange Clinic) and in South (Windermere Clinic).
Please make sure to book the appointment in right location.
Please wear the face mask when you are coming for the treatment.
In order to provide you with a clean and safe environment at our clinic, we have taken measures.
This includes screening of clients/patients, ensuring social distancing is maintained, and making our clinic clean and safe.
Please note the Public Health Orders before making an appointment:
Mandatory 14-day self-isolation for returning international travellers or close contacts of people with confirmed COVID-19.
Mandatory 10-day self-isolation for people with symptoms that are not related to a pre-existing illness or health condition: cough, fever, shortness of breath, runny nose or sore throat. This can be longer if symptoms persist
**During the pandemic, please bring your own mask. Mask is mandatory and must be worn throughout your entire visit to the clinic.
Mention massage and you may automatically think of a luxurious spa treatment. It's so much more! Massage therapy is being used throughout the world, and many patients are seeing incredible benefits. Our registered massage therapists work on your problem areas to relieve stress and relax muscles.
Types of Massage Offered
All of our experienced massage therapists at Grange Lewis Estates Chiropractic, Massage & Acupuncture Clinic are registered with 2200+ hours of massage therapy education. They specialize in the following types of massage: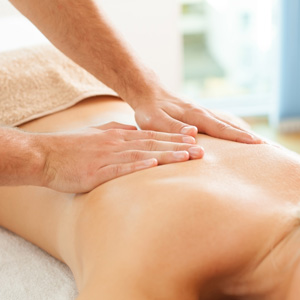 Deep tissue massage – This type of massage addresses the deeper layers of muscle tissue, tendons and fascia. It's similar to Swedish massage.
Jade stone/hot stone – Polished spa quality jade stones are used to release stress and muscle tension. Only some therapists do the Jade stone/hot stone massage, please inquire to receptionist when you make a appointment.
Motor vehicle accident rehab sessions – We can help address any injuries resulting from an auto accident. Massage can help to reduce pain and swelling and promote healing.
Pregnancy massage – Because many aches and pains can accompany pregnancy, massage is a fantastic, drug-free way to feel your best throughout pregnancy.
Relaxation massage – Many benefits are associated with this type of massage including improved sleep, better energy and enhanced concentration.
Trigger point therapy – With this form of therapy, pressure is applied to muscle tissue to help ease pain, reduce muscle spasm and flush out toxins.
Book a Session Today
Discover how incredible you can feel with massage therapy. We direct bill for many insurance companies. Check with your insurance about claiming your massage therapy sessions. Contact us today to schedule your time with one of our massage therapists!
---
Massage Therapy West Edmonton AB | (780) 483-5377